Project overview
Get a quick overview of the project.
---
Motivation and Objectives
Heat pumps are a key technology for the transition towards sustainable energy systems. While today's commercially available equipment is able to provide supply temperatures of up to 100 °C, there is a considerable demand for temperatures of up to 200 °C.
The SuPrHeat project is an international R&D project aiming at the development of competitive and cost-effective high-temperature heat pump technologies for the supply of process heat demand of up to 200 °C at highest efficiencies for a variety of applications. By these developments, the project aims at facilitating the uptake of high-temperature heat pumps in industries in order to accelerate the decarbonization of industrial process heating.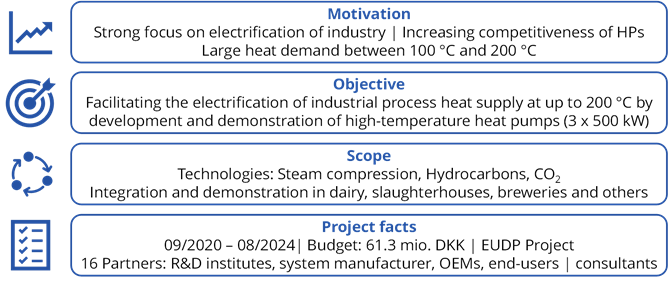 Technology Developments
The developments conducted in the project comprise the development of three technologies based on:
R718 (water)
R744 (CO2)
Hydrocarbons.
For each of the technologies, a pilot plant of approximately 500 kW will be constructed. The pilot plants will be tested with respect to function and performance at DTI and demonstrated at an end user.
Process Integration
In addition to the technology developments, the project will also include developments aiming to improve the process integration of industrial heat pumps. The integration of high-temperature heat pumps is a crucial aspect with respect to the overall feasibility of the project, and it is dependent on various aspects. Special emphasis is paid to the level of integration, which impacts both the obtainable performances as well as the required modifications of the existing processes and thereby the investment cost. For the process integration, existing production facilities as well as novel process equipment will be considered.
Resources
The project runs from September 2020 till August 2024. It has an overall budget of 61.3 mill. DKK, and it is partly funded by the EUDP programme. It involves 16 partners from Denmark, Germany, UK, and Sweden, covering the entire range from research and development to industry. The partner group involves a university, a RTO, technology providers, system manufacturers, consultants, and end-users. The project is coordinated by Danish Technological Institute (DTI).